Fall 2020 Adult Spiritual Formation
Led by Dr. Joshua King
Shared Document of Class Resources
How does Christ relate to creation?
Many modern Western Christians have imagined him (after resurrection) above creation, reaching down into our hearts to work a drama of salvation for which "nature" provides a stage (one day to be left for heaven). Yet the biblical witness and much of Christian tradition envision Christ in creation, holding it together, entering its suffering bodily, reconciling all of it—not only humans—to God.
Could such a vision inform how we see ourselves as the body of Christ now? What would it mean for our worship? How could the arts help us reawaken to Christ's presence in creation? How might we join Christ's work of reconciliation in a world in which ecological, racial, and economic injustice are inseparably linked? These are some of the issues we'll consider together this fall.
---
Learning from Scripture to see Creation in Christ
September 6
Class introduction

September 13
Our Place in Creation


September 20
Christ's Reconciling Work in Creation
Part 1

Part 2

Download Audio Recording Part 1
Download Audio Recording Part 2
Other Links of Note:
Official website for "Brave Blue World"
The Journey Continues
The Creech's blog where they update on their farm
---
Worshipping with other Creatures in Christ
September 27
Creation and Communion
October 4
Our Priesthood and Creation Care
Download the Slide Presentation
October 11
Praising with other Creatures
Download the Slide Presentation
October 18
Human Sin, Creation's Lament, Sabbath Redemption
October 25
Joining the Praise of Creatures
Pulses of the Universe: A Musical Celebration of Creation
A concert that includes a portion of Christina Rossetti's
"Processional of Creation" set to music by Carlos Colón
---
Loving Attentively and Practically in Christ
November 1
Contemplating Creation with Love in the Risen Christ
November 8
Drawing as Contemplation in Practice
Download False Purple Thistle Image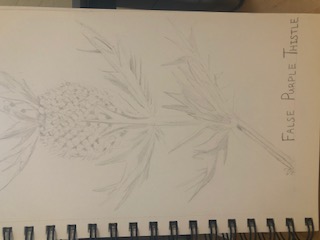 November 15
Agricultural Resistance in the Civil Rights Movement
Download Slide Show Presentation
November 22
Eating and Growing Lovingly, Practicing Local Sustainability